Kim Danke, Consultant
Expertise
Kim Danke has worked in a variety of capacities within nonprofits since the mid-1990s, including policy advocacy, program management, and fund development work. For the last decade, she has focused on grants consulting, raising millions of dollars for a wide range of programs from support for refugee survivors of human rights abuses, to the use of soccer and poetry to build academic success among youth in low-income families. She is committed to supporting Pacific Northwest nonprofits to access the resources they need to be drivers of vibrant, thriving communities.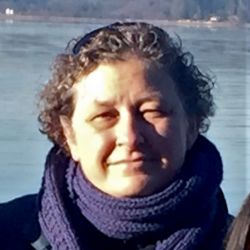 Passion
When not spending time with her family or writing grant proposals, Kim can often be found at an environmental rally, training, or meeting having to do with climate change. She is deeply concerned about the future of our one-of-a-kind planet and ensuring its livability for people, salmon, cedars, and all living things for generations to come.
Education
Kim earned a Bachelor of International Studies degree from the Henry M. Jackson School at the University of Washington, then, after some time living and working abroad, headed to the University of Denver in Colorado to complete a Master of Social Work degree. There she focused on the "indirect" side of social work, including policy advocacy and nonprofit organizational development.
Fun Facts
One of Kim's favorite sayings about her family is, "Five people, three countries, one family." With a native German partner and three daughters, one of whom was born in China, she enjoys celebrating three times the holidays, eating dumplings and spaetzle, and singing "Happy Birthday" in all three languages!