Nicole McCoy, Consultant
Expertise
Nicole McCoy brings more than nine years of experience working with nonprofit organizations, government agencies, and the private sector. Nicole is a skilled writer, researcher, and graphic designer. She excels in helping organizations create and implement the most innovative and efficient communication strategies to achieve their missions. Nicole has been with KH Consulting since 2013 and is responsible for researching, writing, editing, and managing design-related projects. She has designed donor collateral for KH Consulting's nonprofit clients including annual reports, cases for support, and direct mail campaigns. She also regularly conducts grant prospecting for clients.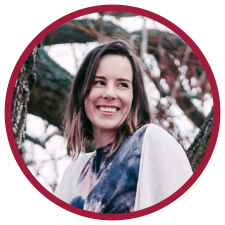 Passion
Nicole's passion is helping organizations and individuals realize their full potential. As a self-described multi-passionate person, her work takes many forms: whether it is managing projects, visually communicating ideas, and researching opportunities for KH's nonprofit clients or working one-on-one with individuals' wellness needs through her massage therapy practice.
Education
Nicole received her Bachelor of Arts degree in Technical Communications from Eastern Washington University, where she studied anthropology, technical writing, journalism and marketing, and visual communication design. In 2018, Nicole became a Licensed Massage Therapist.
Fun Facts
Nicole lives in Spokane, Washington with her husband and rambunctious Golden Retrievers, Woody and Ted. Outside of work, she enjoys spending her time watching obscure documentaries, experimenting with essential oils, and foraging in the woods.